See yourself in your car pulling up to an intersection on a dark and rainy morning. It's before 6am and there are only a few other vehicles on the road. You sit in front of the red light waiting. How long do you wait? All you see is empty road and the red light. Like I said, it's before 6am. Do you go, or sit and wait for the green?
Welcome to 'jailbreak'. I came up with the name riding Ravenna Boulevard to meet the Montlake bike shuttle. Sitting at the Roosevelt crossing with another rider, two of us alone in the dark at 615am I looked across at the other biker, called out 'jailbreak!' stood on my pedals and rolled on through. Oh the joy!
So, back to your car sitting at the 50th Street/Green Lake Way intersection, looking at empty streets. As you see below in the image from Bing maps, this is a five-way intersection. In Seattle terms, it is a famously slow intersection.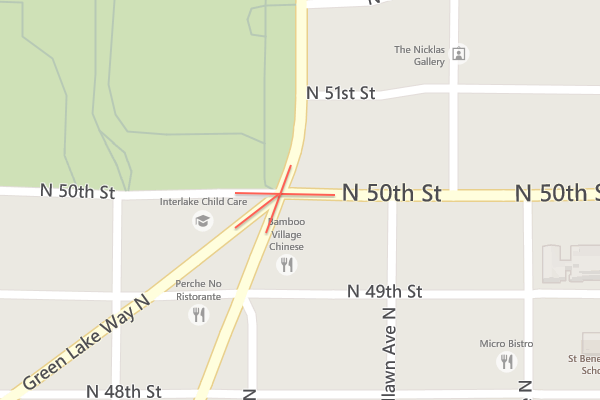 Contrast it with the Ravenna Boulevard/Green Lake Way intersection, here:
The Ravenna intersection is controlled simply by stop signs, and native human wit. As a result, it's faster and more fun to navigate.
If you know Seattle you might interject here that one intersection carries a lot more traffic than the other. Yes, but I still think 'improv' is the way to go. Let's have more flashing reds at slow times of day. Lets have some of the intersections with big expensive stop lights converted to cheaper, more flexible, faster, all-way stops. If it's an absurd time of day and the roads are empty, go for it and blow that light.
So what's 'jailbreak'? It is a blog where I will comment on politics and culture. The plan is, I post a new article at least every other Tuesday. Coming up in no particular order and with no promise of regularity or timeliness:
money in politics, good or bad?
why the Democrat party loves our 2nd-largest minority group
a review of 'other side of the mirror'
mac versus windows
the negative consequences of tax breaks
what is a liberal?