This is the fifth installment in my intermittent series of articles that answer the question 'what is a liberal?' The previous four articles are these:
What is a liberal? They hide from reality
What is a liberal? They'll say anything
What is a liberal? They like diversity, sometimes
What is a liberal? They like to talk about greed, but want your money
Liberals believe that for big problems, the solution lies with the government. Can't make your loan payment? Government will bail you out. Lost your job? Government will provide unemployment compensation. Can't pay your doctor bill? Sign up for Obamacare. Local police are meanies? The Department of Justice will send a team to investigate, and on, and on. To quote Barack Obama: 'If the people cannot trust their government to do the job for which it exists – to protect them and to promote their common welfare – all else is lost.' It reminds one of the old saying: 'If your only tool is a hammer then every problem looks like a nail'.
For liberals, the corollary to their faith in government is that the private sector is not trustworthy. For liberals, much of the motivation behind support for Obamacare lies in hostility to insurance companies. Liberals tell us that the 2008 crash was caused by banks defrauding mortgage holders, and that the SpaceShip One explosion shows that the private sector shouldn't be in space.
Look around. Oil companies guzzle down the billions in profits. Billionaires pay a lower tax rate than their secretaries, and Wall Street CEOs, the same ones the direct our economy and destroyed millions of jobs still strut around Congress, no shame, demanding favors, and acting like we should thank them. Does anyone here have a problem with that?
Senator Elizabeth Warren (D-MA)
Unfortunately, experience shows that government really is not very competent. The list of failures renews itself constantly. The web site of California legislator Kevin McCarthy provides some handy examples:
Last month, the FDA finally approved the use of a second 3-D imaging system, which can improve the detection of breast cancer in women. Multiple 3-D imaging systems have been used outside the U.S. for years. The lack of access to multiple systems in the U.S. has meant fewer diagnoses and higher costs.

A non-partisan study last year found that the average government processing time for an interstate natural gas pipeline from pre-filing to certification was 558 days. The government's failure to approve energy infrastructure projects in a timely fashion means higher energy prices for families and businesses.

In August of this year, an individual requesting a hearing to review a decision made by the Social Security Administration regarding their eligibility for benefits faced an average wait time of 7 to 22 months (depending on where in the country they live).

Before Congress enacted reforms earlier this year, it could take from 10 to 15 years for the Corps of Engineers just to complete a feasibility study for a flood control or navigation project.

It can take more than a decade to acquire all the government permits for a mineral production project. According to one report, the United States currently ranks last, along with Papua New Guinea, in permitting delays out of the twenty-five major mining countries.

A recent non-partisan study found that nearly half of the Social Security Administration's scheduled continuing disability reviews for children with mental impairments were overdue, and an estimated 205,000 were overdue by more than 3 years.
Washington State taxpayers are following the saga of the M/V Tacoma, a ferry owned by the state-run ferry system. The Tacoma departed from Winslow on 7/29/14 bound for Seattle. Since it was carrying passengers and vehicles on a scheduled run, you'd think it was in good repair, preventive maintenance all up to snuff and so on. However, a few minutes into the run it lost power, and was towed back to the dock. Months later it was announced that repairs would cost $1.8 million and the vessel would be out of service for a year. So, if the problems were that severe, why was the Tacoma allowed to even leave the dock? I'm also wondering why the state is in the ferry business.
The federal government's flagship social welfare program is unofficially named the War on Poverty, launched by Pres. Lyndon Johnson in 1964. The goal was 'the elimination of poverty and racial injustice'. No one claims racial injustice is eliminated, so cross that one off. Poverty? Gary MacDougal summarized the result from decades of spending in a Wall Street Journal editorial:
 Including state-level programs, annual government spending on these programs is almost $1 trillion. Dividing $1 trillion by 46 million shows an average of $21,700 for each American in poverty, or nearly $87,000 for a family of four. That's almost four times the $23,850 a year federal poverty line for that family. While not practical, a cash payment of that amount would lift everyone in poverty well into the middle class. Clearly we are not getting the results we should from this enormous level of spending.
The following chart provides another view of the effectiveness of anti-poverty spending, from Wikipedia.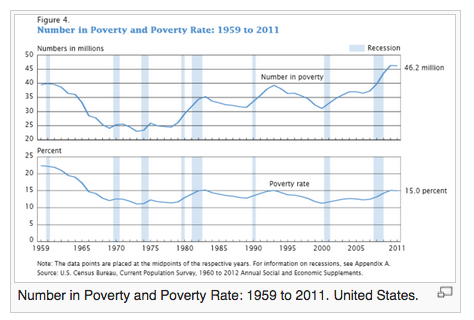 Note there is a decline in the poverty rate in the eleven years between 1959 and 1970, but then in the following 40 years, no progress. Trillions on trillions of dollars, and that's what we get.
There's a simple answer to private sector incompetence, but you can't hide from government incompetence. When a business is incompetent, the damage is usually limited to that business' customers and owners. Customers can cross the street and patronize a different business. Stockholders can sell their stock. With government, you can't avoid the tax bill, or dodge the authority of the regulators. When government gets it wrong, we're all on the hook. There is no hiding place from government incompetence. We all pay for it.
When you rely on government to solve problems, there's also the problem of subsidiarity. The principle of subsidiarity holds that 'nothing should be done by a larger and more complex organization which can be done as well by a smaller and simpler organization.' When subsidiarity is violated, the result is a loss of initiative and accountability at lower levels, and in individuals. Think of why it's good to delegate authority to the front lines. When too much authority is held higher up, it's never a good thing.
Why is it that government programs are so ineffective? I don't know. I suspect there's a problem with incentives and with use of metrics, or rather non-use. How often is it that government programs are checked against metrics to measure success? What government programs have ever been shut down because they failed? How often is it that government employees are terminated for performance reasons?
Bottom line
Liberals believe government solves problems. However, government tends to be wasteful and is often incompetent. Relying on government erodes authority and accountability at all levels of society.