On January 11 Donald Trump famously said: "Why do we want all these people from 'shithole countries' coming here?" and the outrage was unanimous and quick. Most prominent was Sen. Cory Booker (D, NJ) who was variously quoted as follows:
the most vile and vulgar language… give others license to hate, to reflect that kind of ignorance and bigotry… He seems to think that the countries of origins of some Americans are less worthy than the countries of origin of others…this kind of ignorance, this kind of bigotry, is so toxic–not only is it hurtful to individuals, it's causing problems in our country
So I'm wondering, where's the ignorance? Where's the bigotry? Is it not self-evident that some countries are 'less worthy'? I've personally visited more than one country that quite clearly matches Trump's description. According to CNN, Trump was referring specifically to Haiti. I've never been to Haiti, but news reports make it sound worse than the shithole countries I've personally visited.
For the sake of discussion, compare Haiti and Singapore. Both are former colonies: Haiti was a French colony up until 1804, Singapore was a British colony until 1956. Their paths since then are different, and instructive.
Singapore
Singapore was largely destroyed during the Japanese occupation in World War 2. Conditions immediately after the war are described in a Wikipedia article: "violence and disorder; looting and revenge-killing… shortage of food leading to malnutrition, disease, and rampant crime and violence. High food prices, unemployment…massive stoppages in public transport and other services."
Singapore gained independence in 1956. Today:
Singapore is a global commerce, finance and transport hub. Its standings include: the most "technology-ready" nation (World Economic Forum), top International-meetings city (Union of International Associations), city with "best investment potential" (Business Environment Risk Index), third-most competitive country, third-largest foreign exchange market, third-largest financial centre, third-largest oil refining and trading centre and the second-busiest container port…ranks 5th on the UN Human Development Index and the 3rd highest GDP per capita…ranked highly in education, healthcare, life expectancy, quality of life, personal safety and housing…90% of homes are owner-occupied.
Haiti
Haiti began its history as a prosperous French colony. According to an article in The Guardian, a left-leaning British newspaper: "In the 18th century, under French rule, Haiti – then called Saint-Domingue – was the Pearl of the Antilles, one of the richest islands in France's empire". Haiti gained independence from France in 1804, and today is ranked near the bottom on any meaningful metric of prosperity or development. If you read up on Haiti on the internet, you find titles like "Haiti: a long descent to hell" and "Why is Haiti such a poor country?"
The Guardian article also pointed out one telling factoid: Haiti has two fire stations. That's not two fire stations in its largest city, but two fire stations in the entire country. More from The Guardian: "poverty, illiteracy, overcrowding, no infrastructure, environmental disaster and large areas without the rule of law."
In 200 years Haiti goes from 'hero to zero'. Singapore goes from 'zero to hero' in sixty years.
Why the difference?
Here's a clue – see the World Bank's index for 'ease of doing business'. Singapore ranks 2nd. Haiti ranks 181 out of 190. (To gauge how seriously this index is taken, see in this article an analysis of why and how India moved up three spots in the 2017 ranking of 190 countries.)
What's the secret to Singapore's success? An article on the NPR website pointed to "very, very free trade, very low tariffs [and] very few non-tariff barriers…They'll boast about how you can start your own company in Singapore in three hours."
HuffPost, formerly The Huffington Post and typically left-of-center, pointed to a formula that seems right out of a Protestant self-help guide: "Singapore's success is due to MPH: Meritocracy, Pragmatism and Honesty".
Why is Haiti floundering? The ease of doing business index tells me one thing: whoever is in charge doesn't want prosperity for Haiti. Haiti seems unwilling and incapable of helping itself.
I propose we create a "Shithole Country Index", to include countries listed in the bottom twenty on both of two World Bank lists: GDP per Capita and Ease of Doing Business. One list indicates success or lack of it, the other indicates level of effort.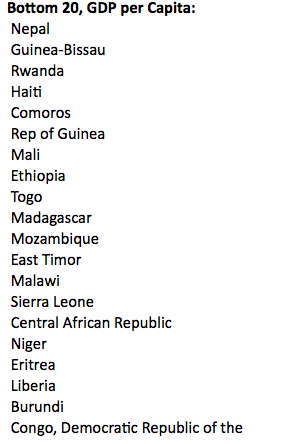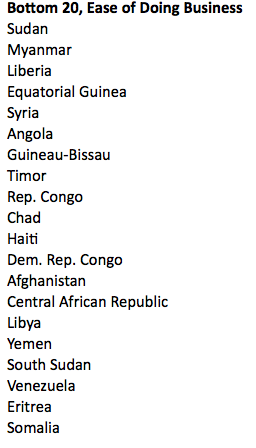 If you're a country that is simultaneously a complete failure and also not even trying, then you're legitimately a shithole country. The winners are…our first members of the Shithole Country Index:
Central African Republic
Eritrea
Democratic Republic of Congo
Guinea-Bissau
Haiti
East Timor
Central African Republic
Liberia
The Bottom Line
Donald Trump should not have used the words he used. Regardless, the fact that 'shithole countries' exist is self-evident.
However, how we prioritize immigrants from all countries is a matter for discussion, hopefully without accusations of racism.